February News
Rupert Baker was a welcome return visitor to the Plympton Gardeners Association February meeting. He gave a wide ranging, illustrated talk on All Aspects of Trees. The level of interest generated in his audience could be gauged by the many questions asked by members afterwards.
Rupert covered how trees have been used by people over millennia and how this has influenced growth and habitats. He showed some interesting photos of the developments in the technology used to harvest and process timber over the years. He covered the various ways in which trees are being attacked and threatened in the 21st century and was able to suggest some replacement species for diseased trees that have had to be removed.
Members were reminded that the annual daffodil competition will be held at the March meeting and that the Spring Show is on 23rd March at Harewood House. This is open to non members and schedules can be obtained from the Show Secretary, Paul Hutchins, tel. 07974406179.
Spring flowers were much in evidence in the monthly competition for flowers. Keith Clapton was the overall winner with a single bloom of Camellia Japonica 'Desire'. Sally Luscombe swept the board with wins in the vegetable, art and needlecraft competitions. The next meeting of the PGA will be held on Thursday March 7th at Harewood House at 7:30pm when the speaker, Caroline Stone, will be talking about Daffodils.
Jobs to do in February
Fruit and Vegetables
Sow indoors: cauliflower, onions, leeks, melons, lettuce, summer cabbage, sprouts, tomatoes.
Sow outdoors: broad beans.
Plant shallots and garlic.
Top dress rhubarb with compost/manure.
Top dress beds for onions, carrots, peas and parsnips with fish, blood & bone.
Place cloches or fleece on carrot & parsnip beds.
Obtain seed potatoes for sprouting indoors.
Flowers

Keep deadheading winter flowering pansies and other winter bedding.
Sow summer bedding plants in a heated propagator.
Pot up any cuttings of tender perennials taken last year.
January News
The Gardeners held their Annual General Meeting in the first week of January at Harewood House. The Chairman, John Gilding, wished everyone a Happy New Year and thanked the committee members for all their support and hard work during the year. He especially thanked those who had retired during the year and welcomed to the committee Bernice Lewin and Phil Warren, who had taken over the roles of Treasurer and Membership Secretary.
John reminded members about some of the problems caused by difficult weather conditions through the year: the Spring Show plus one meeting were cancelled, horticultural entries at the summer show were down and two other monthly meetings were disrupted for reasons not connected to the weather. John expressed a hope that 2019 would proceed more smoothly. He said that an interesting programme of speakers is planned for 2019, with thanks to the Secretary and speaker- organiser Carol Penhallurick. The main aim of the PGA for 2019 is to encourage new members.
Vice President Dr. Keith Clapton welcomed everyone to a new gardening year and the challenges ahead that are likely to arise as a result of climate change. He thanked the Chairman for all his work for the PGA.
The Officers and existing committee were all re-elected, and Fiona Smith was welcomed as an additional committee member.
Mary Anderson from The Mustard Tree at Derriford Hospital was a guest at the meeting and was presented with a cheque for the charity. The Gardeners have been raising funds during 2018 to help provide services for cancer patients.

The PGA annual competition trophies, for the most points accrued during the year, were awarded to Dr. Keith Clapton for flowers, Sally Luscombe for both vegetables and art and craft and Maureen Styler for needlecraft. Chris Bishop won the January competitions with a flowering orchid and knitted items for the Baby Bereavement charity.
The next meeting of the PGA will be held on Thursday 7th February at Harewood House at 7:30pm, when Rupert Baker will be talking about trees.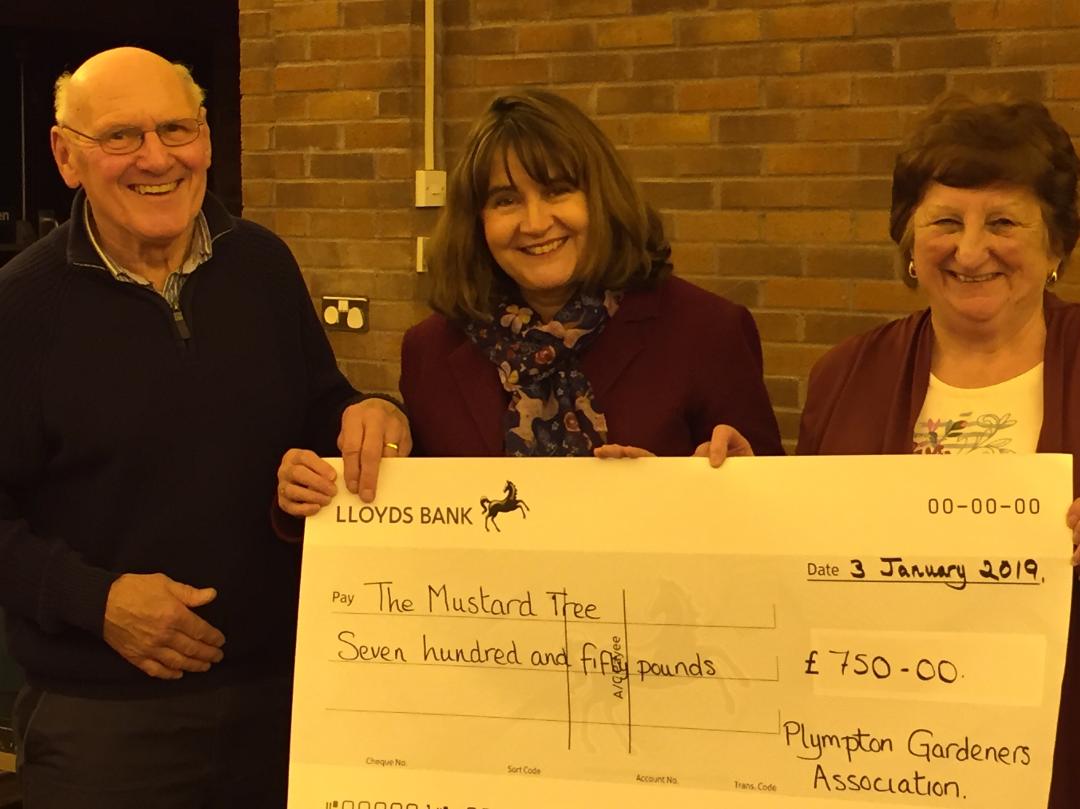 Jobs to do in January
Fruit & Vegetables
Prune soft fruits, vines, apples and pears.
Top dress all fruit trees and bushes with compost/manure.
Complete all digging.
Flowers
Sow Begonia, Lobelia, Salvia and Pelargonium in a heated propagator.
Pot on autumn sown Sweet Peas.
Plant lily bulbs in pots.
Plant roses.
Prune Wisteria.
A new service for members from January 2014
Members who cannot get to the trading hut but wish to purchase garden supplies can now email Dave Wickstead (at davewickstead@blueyonder.co.uk) to place an order, which can then be collected at the next meeting.

.