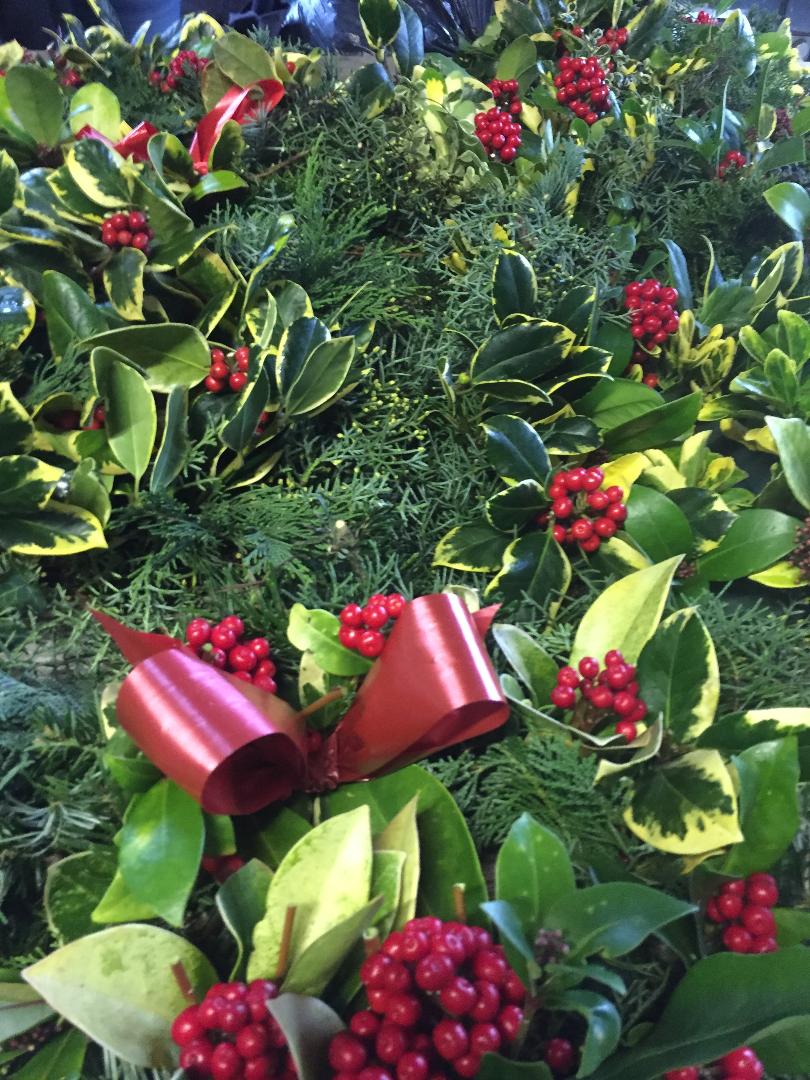 Beautiful Christmas wreaths on sale at the Community Council Christmas Fair at Harewood House, a.m. Saturday 8th December. Or to order by email from djcabishop@aol.com. £8 each
November News
New Competition for Plympton Gardeners
At the November meeting of the PGA the Association President, Dr. Keith Clapton, gave a talk about the cultivation of Sweet Peas & announced a new annual competition for members. In April a pot of seedlings will be available, with members challenged to grow the plants on and compete for the best blooms at the Association's Annual Show.
PGA members have chosen the charity 'Children's Happy Hospital Fund' to support in 2019. Sue Rogers, who works as a Play Specialist on the children's wards at Derriford Hospital, came to the meeting to talk about the work done by the charity and what it provides to improve the hospital experience for sick children. The Gardeners will be raising funds to provide toys, art materials, TVs and electronic tablets and also facilities for parents.
The craft challenge for members at the Christmas meeting next month will be to make/decorate a Christmas hat or to create a Christmas scene in a plant pot.
The monthly competitions were won by the Reverend Jamie Styler for some Arum leaves, by Maureen Styler for an embroidered picture and by Sally Luscombe for a pencil drawing of a grape vine.
Jobs to do in November

Fruit and Vegetables
Complete digging of deep trench beds and start digging shallow trench beds for brassicas, salads and root vegetables.
Apply light dressings of lime to next years brassica and legume beds.
Plant 'bare root' fruit trees.
Flowers
Cut back and tidy ornamental grasses.
Take root cuttings from suitable perennials
eg. Phlox and Verbascum.
Tidy up leaves and gather into containers to make leaf mould.
Lift and store dahlias after the first frost.
Plant tulip bulbs.
Plant bare root roses.
October News
Thoughts were turning to spring at the October meeting of Plympton Gardeners. The speaker was Adrian Scamp who runs a bulb producing business in Cornwall which specialises in daffodils, many bred by Adrian's father. R & A Scamp have won gold medals and 'Best in Show' at RHS shows. Adrian illustrated his talk with slides of beautiful blooms. He talked about the history of daffodils, their cultivation, and the best varieties for showing, & also for growing in the garden and in containers. He gave a clear explanation of the different divisions of flowers for entering in shows.
During the interval PGA members had the opportunity to buy bulbs at reduced prices.
Members were reminded that the PGA will be running the coffee bar at Harewood House in January & were asked to pledge donations at the next meeting.
Maureen Styler won the monthly competition for needlecraft with an embroidered table cloth, Sally Luscombe entered a drawing of a flowering currant to take the art prize and Keith Clapton won both the flower and fruit prizes with collarette dahlias and desert apples.
The next meeting of the Association will be on Thursday 2nd November, at 7:30pm, at Harewood House when the speaker will be from the nominated charity for 2019.
Jobs to do in October
Fruit and Veg
Take cuttings of gooseberries.
Prune grape vines.
Clear onion beds.
Start digging of deep trench beds for potatoes, onions and legumes.
Renew top dressing on rhubarb beds.
Flowers
Continue planting spring flowering bulbs.
Plant new herbaceous perennials.
Divide overcrowded herbaceous perennials.
Clear summer bedding.
Lift dahlias after first frost.
Bring tender plants into the greenhouse for the winter.
A new service for members from January 2014
Members who cannot get to the trading hut but wish to purchase garden supplies can now email Dave Wickstead (at davewickstead@blueyonder.co.uk) to place an order, which can then be collected at the next meeting.

.